Behold, a perfect fabric and pattern match! This is the Style Arc Kitt Knit Dress (so fun to say) which I was inspired to buy after I wrote last week's round up. It is a really simple inverted triangle silhouette – but since I've been teaching a few math classes lately, let me be more precise and say it is a pentagon (pentagram in the UK?) with the neckline at the upper vertex! 😛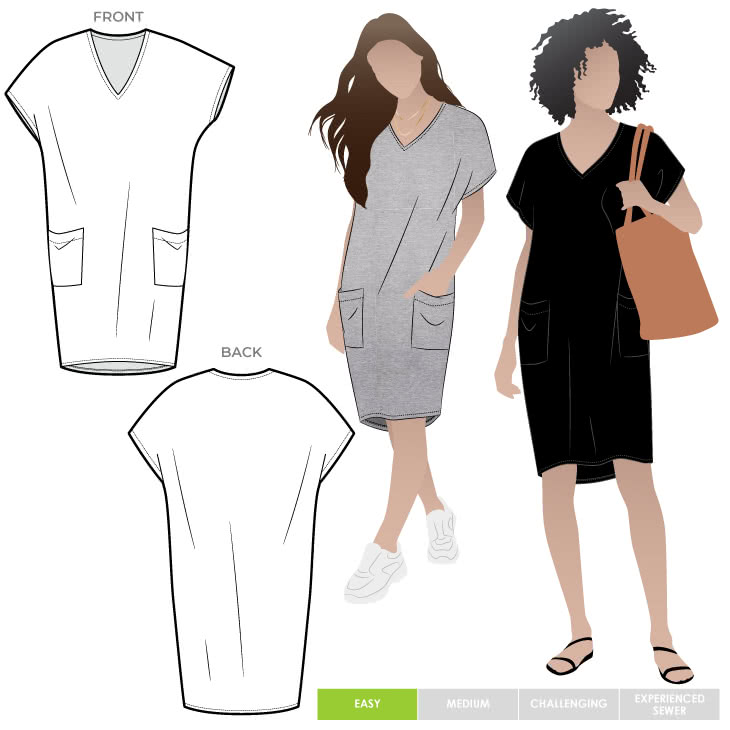 You can see I made it into a round neckline, which I prefer. It was so fast to sew together that I made two in one day!
But THIS FABRIC! Let me tell you the story of how it arrived in my life! RIght in the very earliest days of COVID, Lori from @somebody_or_others_mom reached out and said that she felt people needed a pick me up and that she hoped we could all help each other by gifting something to a friend. She let me choose from a few fabrics in her stash, and I knew this one had to be mine. (Don't worry, I passed on the good deed to someone else.) I'm so happy to have found the perfect pattern to match it with this fabric – but I'm even more glad to have become better friends with Lori over the course of the year. Someday, when COVID is over, we'll have an epic hangout since she is "only" 3 or 4 hours away. Thank you, Lori!
Here's my second version, made in a rayon jersey that has been in my stash for at least 8 years! I first made a Mission Maxi tank dress from the yardage in 2013, which you can see in this post. As many of my clothes do, it eventually became pyjamas and in fact, I'm wearing that original dress right now. I loved the fabric so much that I bought 6m on sale and have been holding onto it ever since.
I'm never sure how things will fit, so I often size up rather than down. In this case, I paid the $3 to get the multisize pattern, which made it easy to size down when this first one turned out too big! I took it in an inch at centre back before adding the neckline, so now it is good.
Here is a closer look at the two fabrics. The floral has vertical lives of silver metallic throughout, and the graphic print has a neat slub texture.
I made these dresses just as the temperature dropped for fall, but if you live in hot climates, I'd highly recommend them. Nice and breezy but also some sun coverage! I'll be layering mine up with leggings and cardigans for fall… and possibly figuring out how to add long sleeves for winter cosiness?
Happy sewing to you all!