The Style Arc Hope Woven Dress was a big hit this fall, but of course I sewed it in a knit instead!
I like the high neckline, and the way the dramatic raglan sleeve give a batwing-effect. Unfortunately the rayon print I chose is so busy that you can't see a single style line in my version.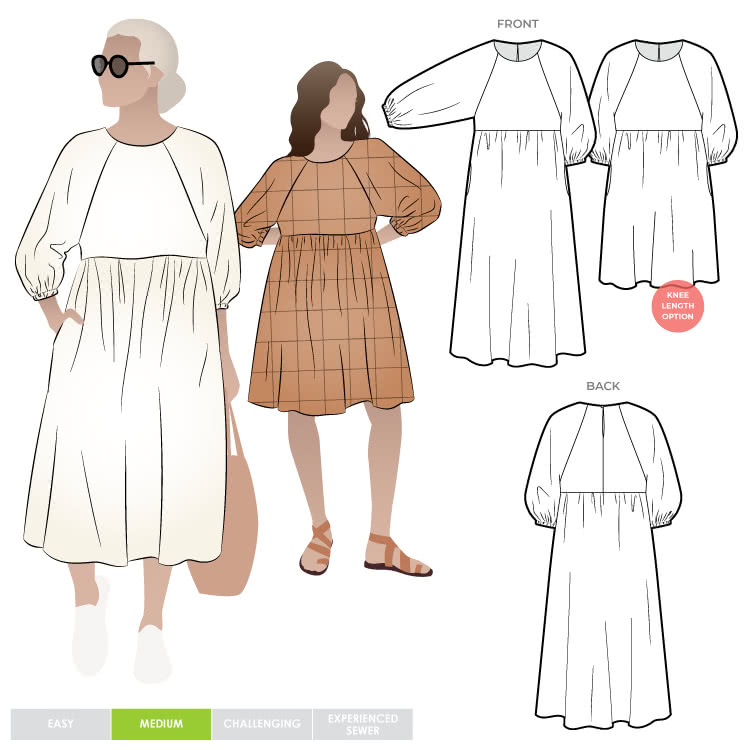 As you can tell from the fall leaves, I made this a few months ago, so I have to say I'm fuzzy on the details. I have worn it a bunch though, and come to the conclusion that it's too big in almost every way! Too long and too wide. I sewed elastic into the waist seam, but also had to take a tuck in either side to pull the elastic tighter. I'd like to make it again with a shorter and snugger bodice, and maybe more of an A-line skirt? Still fun though, and I can see why it was popular.
As I write this, I'm realizing that this silhouette is very similar to the most recent dress I've made, using a TNT Burda pattern previously seen here. See? Guess I'm a sucker for an elastic waist dress with a T-shaped bodice!
My current sewing project is working on some comfy tops. The longer I work from home, the less I care what my whole silhouette or outfit looks like, and the more I want to be colourful and cute on the top half while wearing leggings out of sight on the bottom!
xox,
Gillian