Several pairs of my me-made jeans are ready for retirement, so I finally found the courage to sew up some of my Cone Mills Denim!
I ordered it from Threadbare fabrics, where it is $15-16USD/yard, which is a very reasonable price… until you have to buy it in Canadian dollars and have it shipped here! In the end. even with a 15% sale, it cost (OMG!) $140 for 5m, aka. $70/pair of jeans. I'm gagging just thinking about it. These bloody jeans better last forever! All I can say in my defence is that I've consistently regretted not buying the Closet Case Files kits when they are released, so I just went for it.
The good news is that before these pictures, I'd worn these jeans already for 3 days. Yes, they are a bit looser then when they came off the machine, but nowhere near as baggy as my other jeans would now be! I was aiming for a slim, sleek, but not skin-tight fit, and I think with a few adjustments, they'll be even better. A slightly shorter hem will help with some of the horizontal wrinkling, and a wedge out of the back would help them stay in place better.
Speaking of fit… care to help me diagnose these wrinkles?
I know it's a bit hard to see… but in addition to the "I need room to sit" wrinkles in the upper back thigh, I end up with wrinkling along the outer edge, and quite a bit of wrinkling at my knees. Do I need a bigger knock-knee adjustment? More room in the inner back thigh? I"m open to suggestions!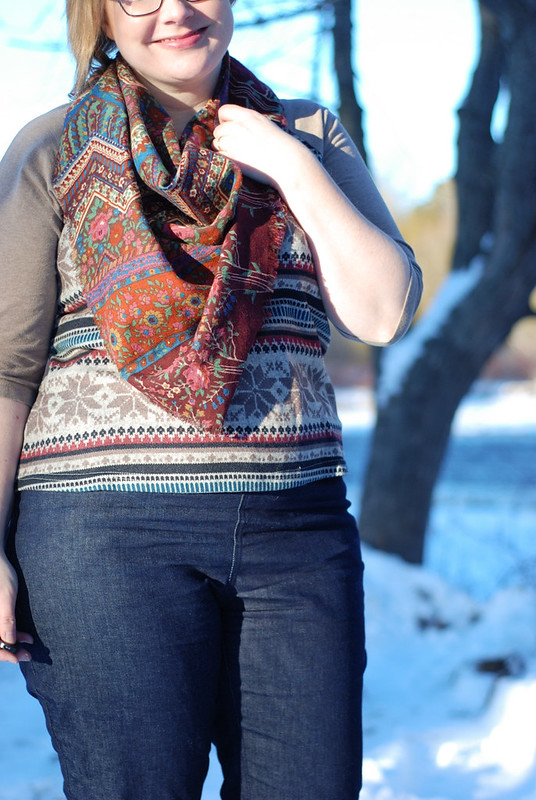 I finally tried a pocket stay on tis pair, and I'm totally sold! I'd always worried that it would feel too tight, or pull the back fit out of shape, but turns out quilting cotton has enough natural give to be comfortable but offer a bit of control. I also printed out the larger pockets Heather Lou offers for free. How many versions of this pattern did it take me to make those adjustments? Too many!
I borrowed this scarf of my mom's 3 years ago, and never gave it back. Sorry, Mom! I wear it a lot though – it's one of the rare brown items in my wardrobe, along with this Jalie raglan I refashioned from two RTW tops.
You'll notice I took a break from taking pics inside: driving to the park seemed faster than cleaning up my photo area at home! It was only -5, so consider it my show of solidarity with Americans dealing with the big blizzard.
So, were these jeans worth $70? Only time will tell! I'll wash them tomorrow and see how they do – I guess I'd better decide now if I'll be hanging them to dry or chucking them in the dryer with everything else!
How much would you pay for RTW jeans? And how much would you pay to make them yourself?